Celebrate Ornette Premium Box Set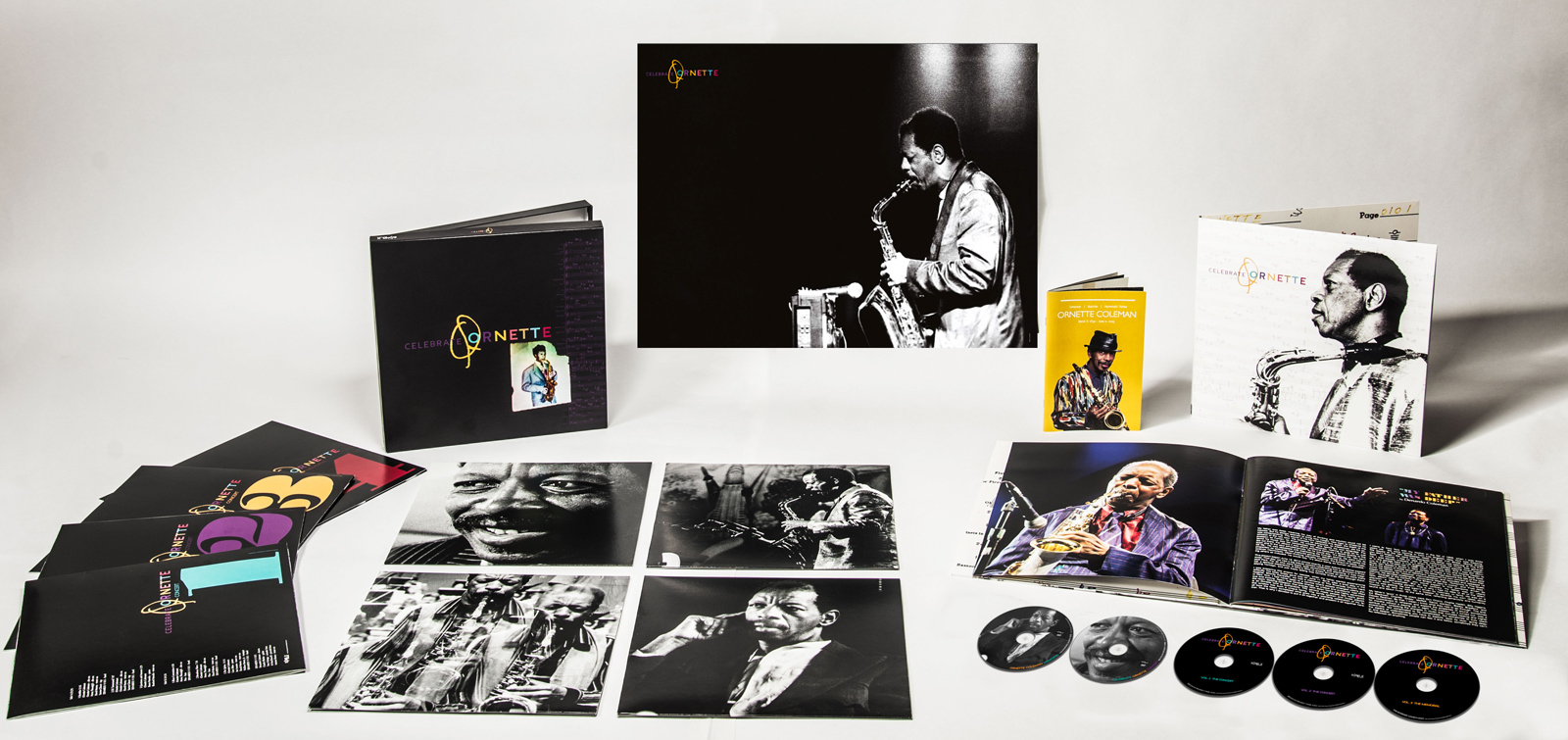 Celebrate Ornette Premium Box Set
This supreme set includes all 24 performances from the two events, Ornette's last performance at the "Celebrate Brooklyn" show and his Memorial at Riverside Church. The limited edition of only 1600 hand numbered sets boasts 4 LP's, and the Deluxe 5 Disc Gatefold which is comprised of 2 DVDs, 3 CDs, an exclusive black and white Ornette poster and a 26-page collector's booklet with extensive liner notes by James Blood Ulmer, John Snyder, James Jordan, and Denardo Coleman. The albums are pressed on 180-gram vinyl at the legendary United Record Pressing in Nashville, Tennessee.
As a special bonus in the Gatefold, an original Ornette Coleman 10-page linen Memorial Program, signed by Denardo Coleman, is also included.
This collection contains a set of consists of 17 different elements individually curated from the Ornette Coleman experience. The cover photo captures the rarely-seen 1950's R&B band-era Ornette, with shoulder length hair and broad zoot suit shoulders. Specially treated with a UV finish, this rare glimpse of young Ornette is taken from the personal family archive of Ornette's sister, Trudy Coleman — a performer in her own right, who cut sides like 1962's "Come Home Baby," on the Manco label out of Fort Worth.
As mentioned the Premium Box Set features a handsome Deluxe 5-Disc Gatefold, also available for separate purchase, presenting all the performances in digital form. The cover shots of Ornette on the gatefold, with its treated UV finish, are by Italian photographer Elena Carminati. One of Italy's most distinguished Jazz photographers and a long- time friend of Ornette, she graciously agreed to share many of her photos of Ornette for this special project. One of the most unique images in the booklet is the centerfold of Ornette lying flat down on the stage after a performance in Milan, signing programs for fans in the audience. Other images include James Rogers' tender shot of Ornette and Sonny Rollins backstage in Brooklyn's Prospect Park.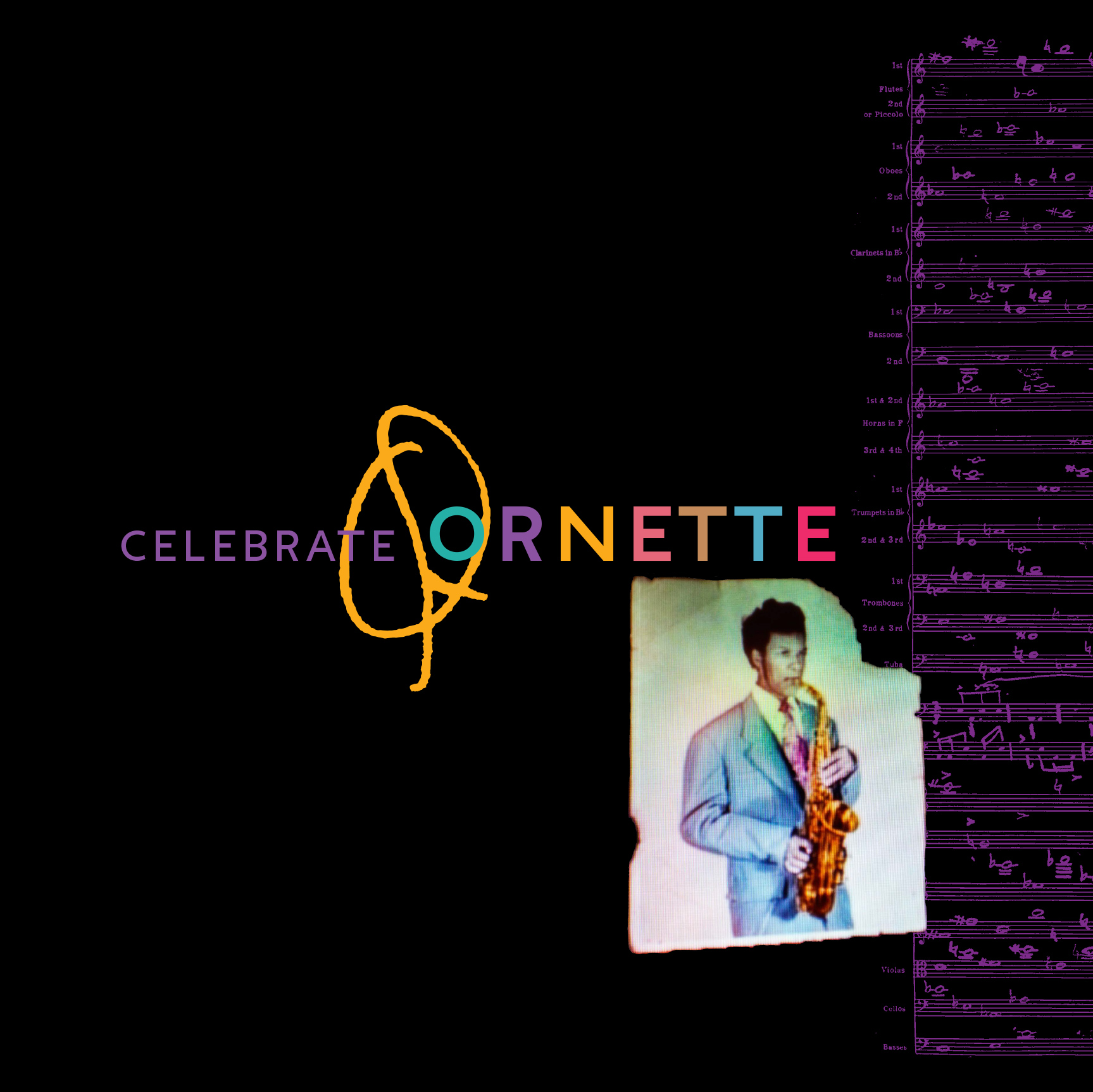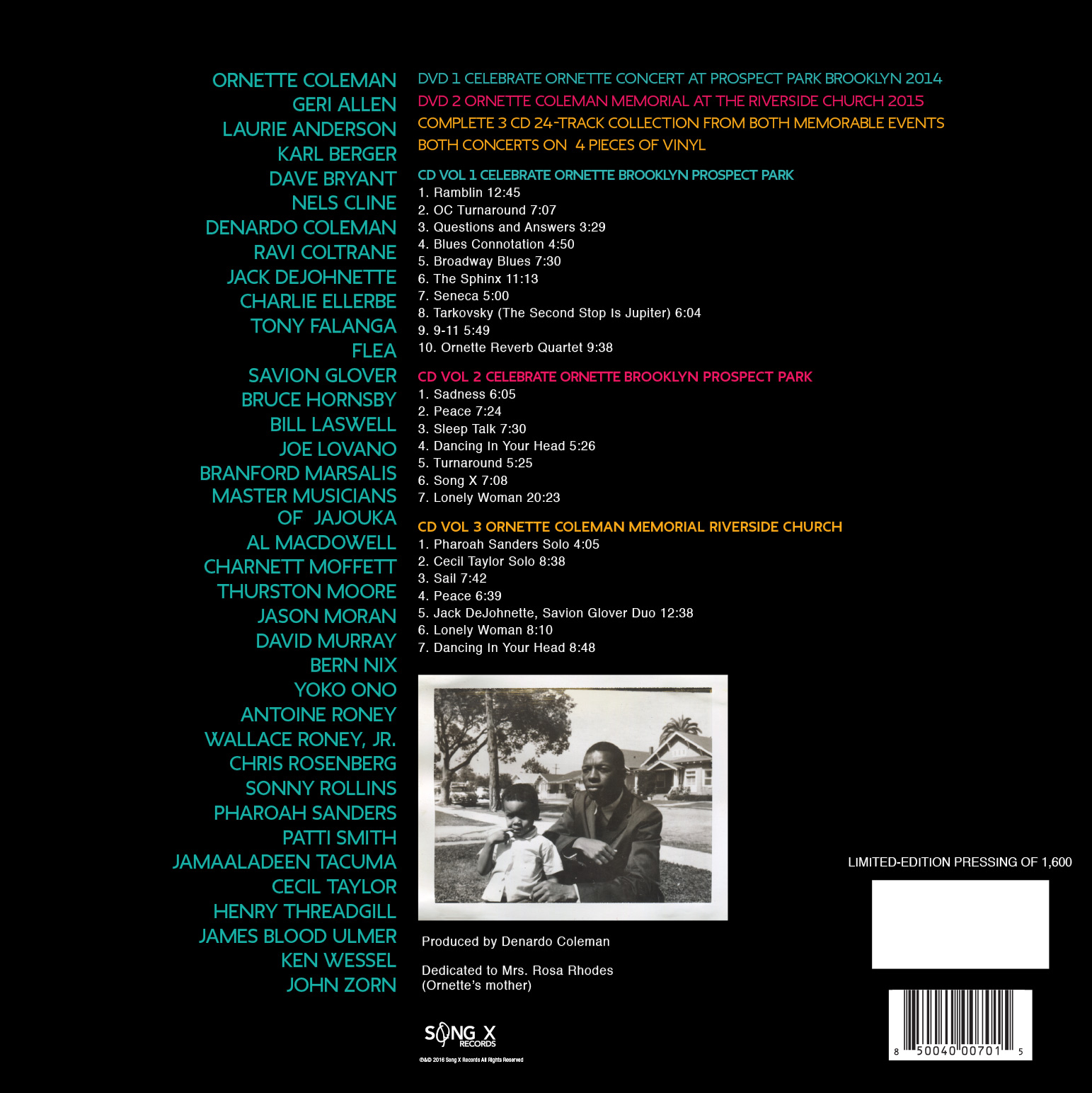 Celebrate Ornette Premium Box Set which includes:
DVD 2014 Celebrate Ornette Concert at Prospect Park Brooklyn (3hrs)
DVD 2015 Ornette Coleman Memorial at The Riverside Church, New York (3hrs)
CD's – 3 Volume, 24-track Collection of new content from both memorable events
26 page booklet including notes by Denardo Coleman, producer James Jordan, musician James Blood Ulmer, producer John Snyder, exclusive photographs and Ornette Coleman Poster from renowned Italian photographer Elena Carminati.
Signed Authentic Original Linen Memorial Program
4 Volume 24-track Audiophile Set 180-gram vinyl pressed on 12″ LPs at 33 1/3 RPM by United Record Pressing
1600 Hand-numbered Limited Edition
$275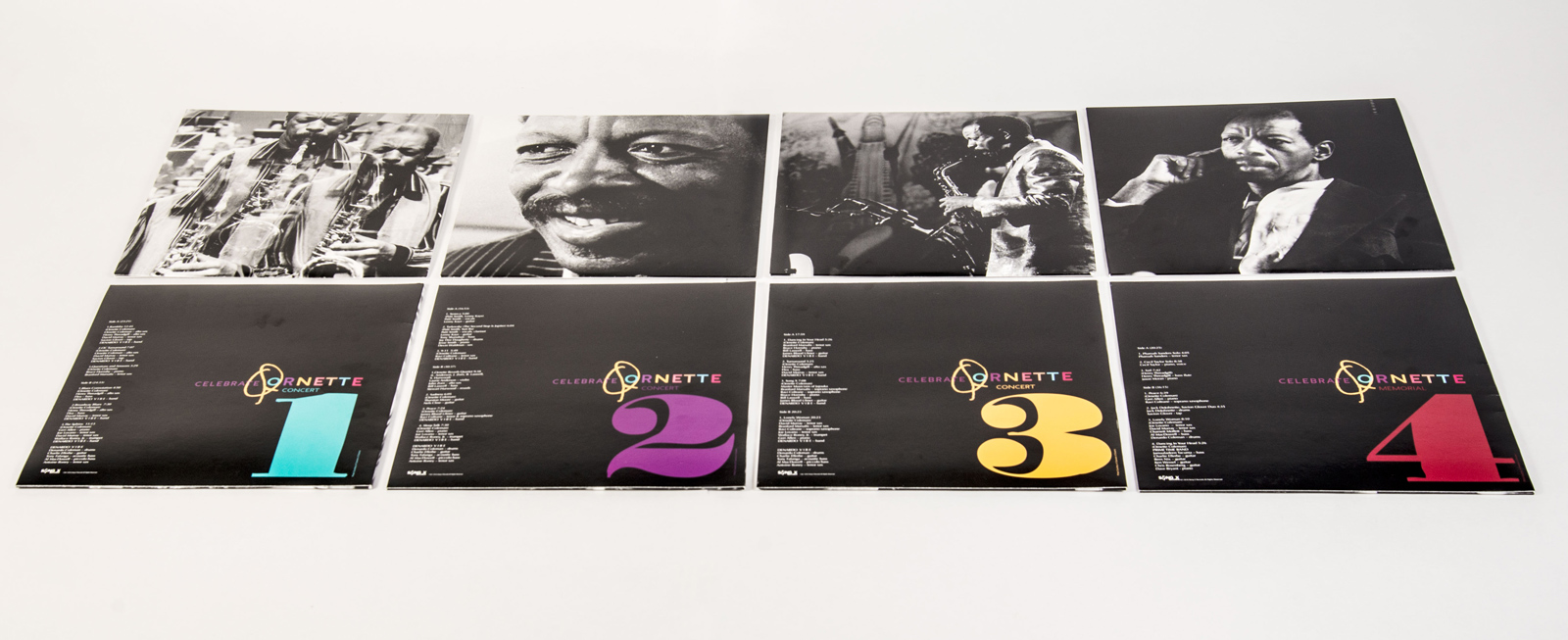 Vinyl Jackets
All four images that grace the cover of the LP's were taken at the Caravan of Dreams performing arts complex in Fort Worth, Texas, during the making of the Shirley Clarke film, "Ornette: Made In America." The film captures Ornette's triumphant return to his hometown of Fort Worth in 1983, when he was given the keys to the city and his symphony, "Skies of America," was performed. During this period, Ornette spent time with fellow honoree, writer William Burroughs; years later, Ornette would work with composer Howard Shore on the 1991 movie soundtrack for Burroughs' classic book, "The Naked Lunch."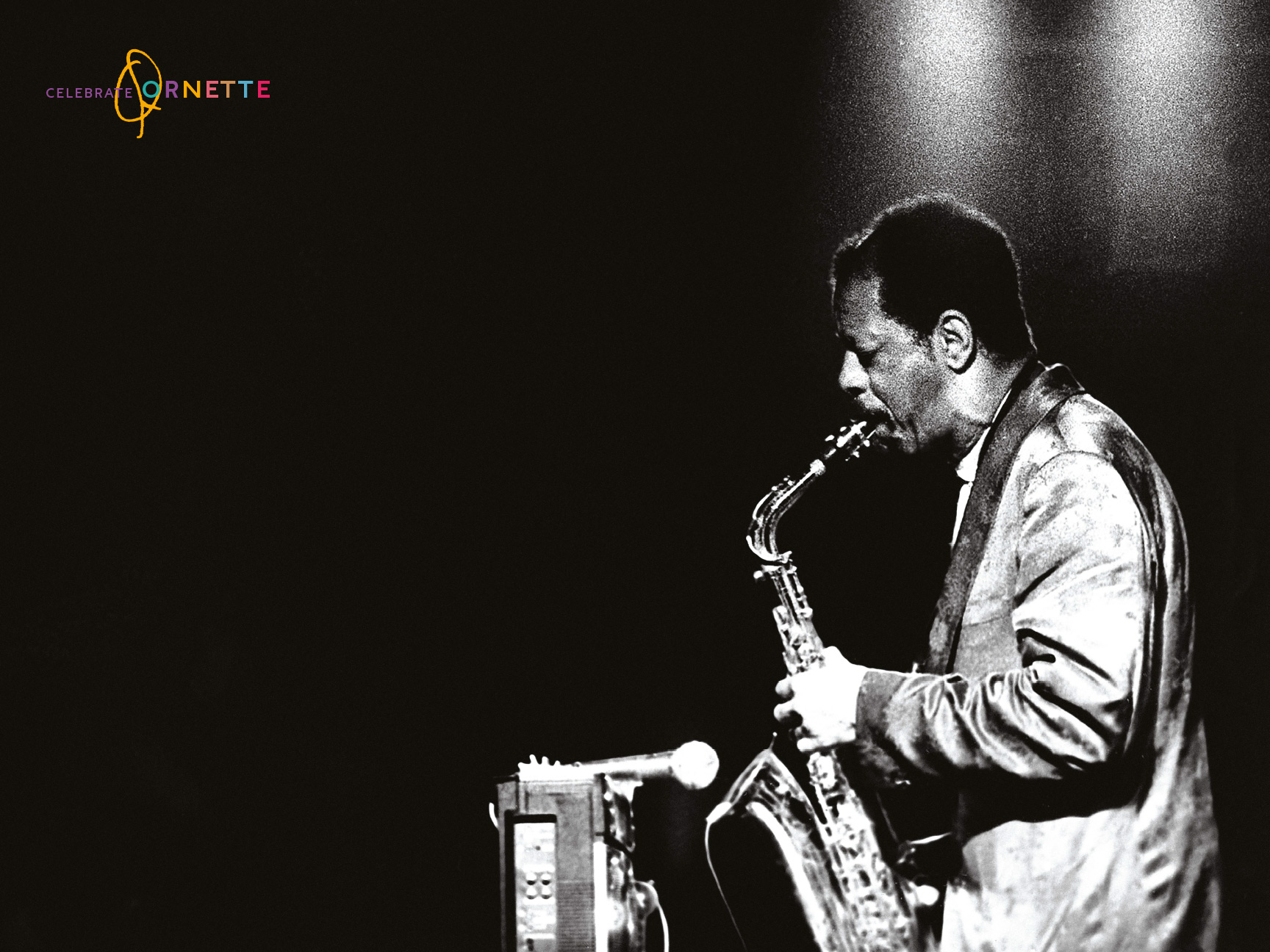 Poster – 18 x 24 Ornette Coleman Collector's Poster by Elena Carminati
For many years Elena Carminati has been among the most noted jazz photographers in Italy.  Her photo of Jerry Mulligan appears on the home page of the United States Library of Congress website. Her book, "Jazz Tales," includes more than one hundred classic jazz portraits, and eleven short stories dedicated to some of the world's greatest jazz musicians, written by jazz journalist and author Vittorio Franchini. A very dear friend of Ornette Coleman, Vittorio Franchini was a music critic for Corriere della Sera, Italy's foremost daily newspaper.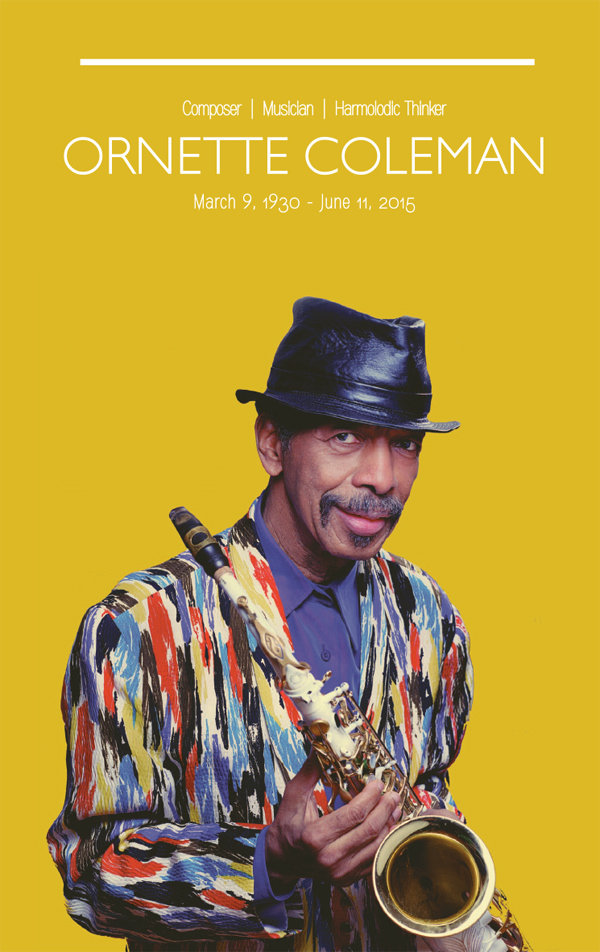 Original Memorial Program – The Ornette Coleman Memorial on June 25, 2016 at The Riverside Church, New York City, was truly a historic event. For the occasion, a very special tribute program was created, featuring a cover photo of Ornette in one of his iconic multi-colored suits, holding his white saxophone. The inside cover shows Ornette's hand written "Harmolodic Theory," from his personal manuscript book. The centerfold is a collage of many of Ornette's more than 60 albums. The historic images include the original Quartet of Ornette, Don Cherry, Charlie Haden and Billy Higgins, among others.