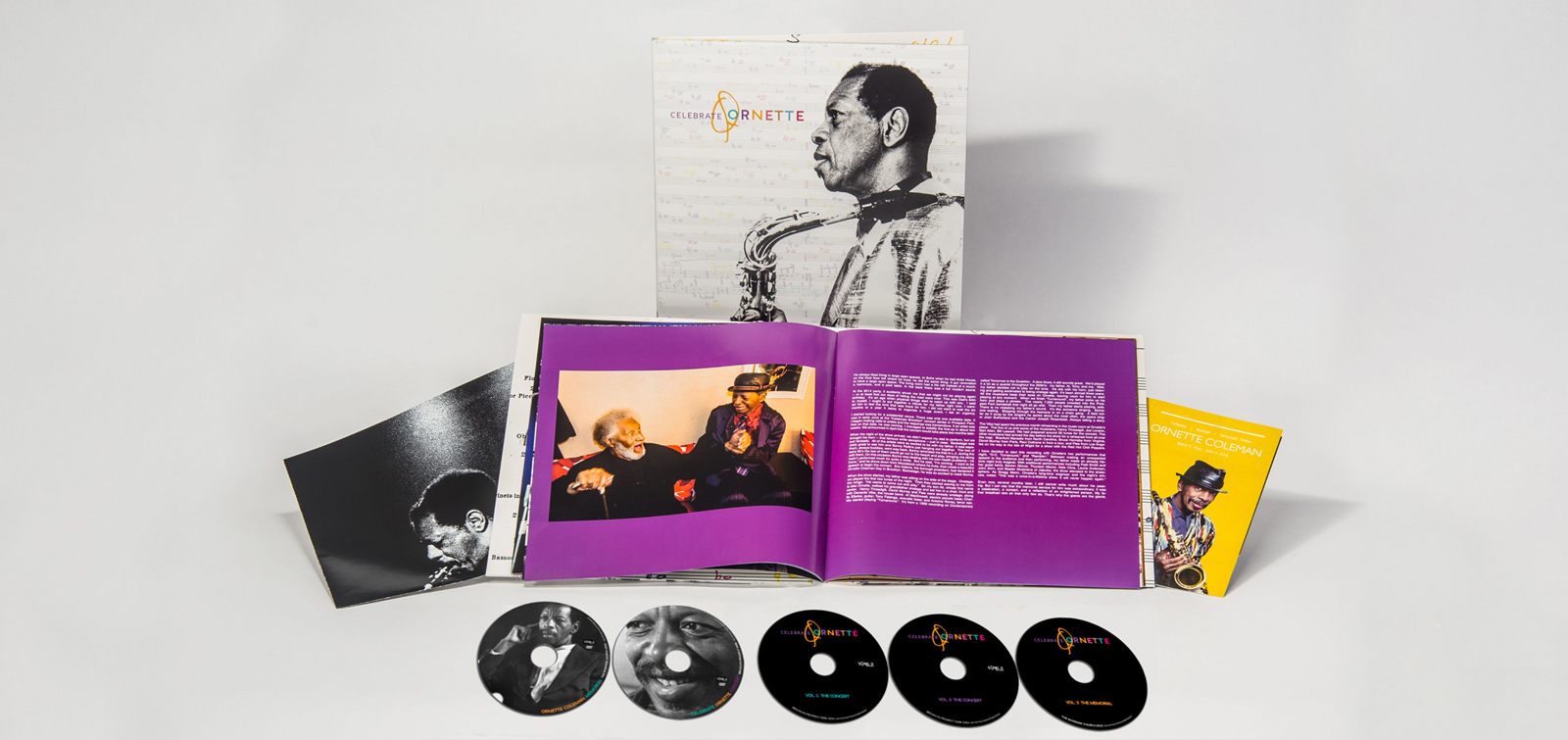 Deluxe 5 Disc Gatefold
The Deluxe 5-Disc Gatefold set, included in the Premium Box Set, available for separate purchase. The Deluxe Gatefold Set presents all 24 performances from two events, Ornette's last performance at the "Celebrate Brooklyn" show and his Memorial at Riverside Church, in digital form. The set comprises 2 DVDs, 3 CDs, an original black and white Ornette poster and a 26-page collector's booklet with extensive liner notes by James Blood Ulmer, John Snyder, James Jordan, and Denardo Coleman.  An original Ornette Coleman 10-page linen Memorial Program is also included.
The cover shots of Ornette on the gatefold LP sleeve, with its treated UV finish, are by Italian photographer Elena Carminati. One of Italy's most distinguished Jazz photographers and a long- time friend of Ornette, she graciously agreed to share many of her photos of Ornette for this special project. One of the most unique images in the booklet is the centerfold of Ornette lying flat down on the stage after a performance in Milan, signing programs for fans in the audience. Other images include James Rogers' tender shot of Ornette and Sonny Rollins backstage in Brooklyn's Prospect Park.
Gatefold Contents:
DVD 2014 Celebrate Ornette Concert at Prospect Park Brooklyn (3hrs)
DVD 2015 Ornette Coleman Memorial at The Riverside Church, New York (3hrs)
CD's – 3 Volume, 24-track Collection of new content from both memorable events
26 page booklet including notes by Denardo Coleman, producer James Jordan, musician James Blood Ulmer, producer John Snyder, exclusive photographs and Ornette Coleman Poster from renowned Italian photographer Elena Carminati.
Authentic Original Linen Memorial Program
$100